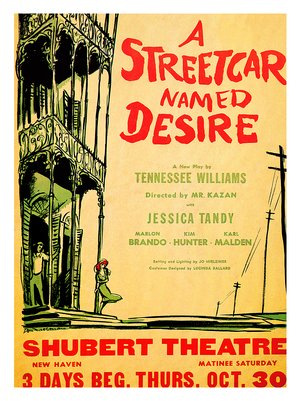 A Streetcar Named Desire Production History
The original Broadway production workshopped at the Shubert Theatre in New Haven, Connecticut (see poster to the left) a few weeks before it opened at the Ethel Barrymore Theatre on December 3, 1947.
Produced by Irene Mayer Selznick
Directed by Elia Kazan
The original Broadway cast
Jessica Tandy as Blanche DuBois

Kim Hunter as Stella Kowalski

Marlon Brando as Stanley Kowalski

Karl Malden as Harold "Mitch" Mitchell

Rudy Bond as Steve Hubbell

Nick Dennis as Pablo Gonzales

Peg Hillias as Eunice Hubbell

Vito Christi as Young Collector

Richard Garrick as Strange Man

Ann Deere as Strange Woman

Gee Gee James as Negro Woman

Edna Thomas as Mexican Woman
Selznick originally wanted to cast Margaret Sullavan and John Garfield but settled on Marlon Brando and Jessica Tandy, who were virtual unknowns at the time. Brando was given car fare to Tennessee Williams' home in Provincetown, MA, where he not only gave a sensational reading, but did some house repairs as well. Tandy was cast after Williams saw her performance in a West Coast production of his one-act play Portrait of a Madonna. Tandy won the Tony for Best Actress in a Play in 1948.
Later in the run, Uta Hagen replaced Tandy and Anthony Quinn replaced Brando. It's interesting to note that Hagen's portrayal of Blanche was NOT directed by Kazan - and as a result, this new production refocused the story back on Blanche and pulled it away from Stanley.
I found a great anecdote on IMDb about Brando's performance in Streetcar. I've copied it here for ease of reading:
The problem with casting Brando as Stanley was that he was much younger than the character as written by Williams. However, after a meeting between Brando and Williams, the playwright eagerly agreed that Brando would make an ideal Stanley. Williams believed that by casting a younger actor, the Neanderthalish Kowalski would evolve from being a vicious older man to someone whose unintentional cruelty can be attributed to his youthful ignorance. Brando ultimately was dissatisfied with his performance, though, saying he never was able to bring out the humor of the character, which was ironic as his characterization often drew laughs from the audience at the expense of Jessica Tandy's Blanche Dubois. During the out-of-town tryouts, Kazan realized that Brando's magnetism was attracting attention and audience sympathy away from Blanche to Stanley, which was not what the playwright intended. The audience's sympathy should be solely with Blanche, but many spectators were identifying with Stanley. Kazan queried Williams on the matter, broaching the idea of a slight rewrite to tip the scales back to more of a balance between Stanley and Blanche, but Williams demurred, smitten as he was by Brando, just like the preview audiences.

For his part, Brando believed that the audience sided with his Stanley because Jessica Tandy was too shrill. He thought Vivien Leigh, who played the part in the movie, was ideal, as she was not only a great beauty but she WAS Blanche Dubois, troubled as she was in her real life by mental illness and nymphomania.
Interesting. Anyway, the play went on to open on London's West End with the following production staff:
The Original London Production (1949)
Directed by Sir Lawrence Olivier
Featured Vivian Leigh (Blanche), Bonar Colleano (Stanley), and Renee Asherson (Stella)
The smashing success of the play led to the now famous film version in 1951.
Most of the original Broadway team brought the play to the silver screen.
Directed by Elia Kazan
Vivian Leigh as Blanche DuBois

Kim Hunter as Stella Kowalski

Marlon Brando as Stanley Kowalski

Karl Malden as Harold "Mitch" Mitchell

Rudy Bond as Steve Hubbell

Nick Dennis as Pablo Gonzales

Peg Hillias as Eunice Hubbell

Wright King as A Collector

Richard Garrick as Doctor
A large number of changes had to be made to the script in order to conform to the Hollywood Production Code. The ending is much more ambiguous, and a number of references had to homosexuality and suicide had to be removed from the script. It still ran into problems with various decency groups. The film was nominated for 12 Oscars and won 4 - Best Actress (Vivian Leigh), Best Supporting Actor (Karl Malden), Best Supporting Actress (Kim Hunter), and Best Art Direction-Set Decoration Black & White (Richard Day and George Hopkins).
Note that Elia Kazan and Marlon Brando were both nominated but did not win. Kazan lost to George Stevens for A Place in the Sun and Brando lost to Humphrey Bogart for The African Queen.
There have been a few notable revivals since then.
1992 Broadway Revival (at the Barrymore)
Featured Jessica Lange (Blanche), Alec Baldwin (Stanley), Amy Madigan (Stella), Timothy Carhart (Mitch), with James Gandolfini and Aida Turturro in support roles.
1997 50th Anniversary Production - New Orleans
Music by the Marsalis family
2005 Broadway Revival
The 2005 Broadway revival was directed by Edward Hall and produced by The Roundabout Theater Company. It starred John C. Reilly (Stanley), Amy Ryan (Stella), and Natasha Richardson (Blanche). The production would mark Natasha Richardson's final appearance on Broadway owing to her death in 2009 in a skiing accident.
2011 Dragon Productions in Palo Alto
Directed by: Jeanie K. Smith
Featuring:
Blanche DuBois- Meredith Hagedorn*
Stella Kowalski - Katie Anderson
Stanley Kowalski - Andrew Harkins
Harold "Mitch" Mitchell - Troy Johnson
Steve Hubbell/Doctor/Understudy - Charles McKeithan
Eunice Hubbell/Understudy - Monica Colletti
Pablo/Paperboy/dead husband - Phillip Raupach
Flower Girl/Nurse - Mary Lou Torre
*Member of Actors' Equity Association
Join us as we celebrate this classic on the centennial of one of America's greatest playwrights. We've sold out every show to date, so buy your tickets in advance - the show must close August 21st!