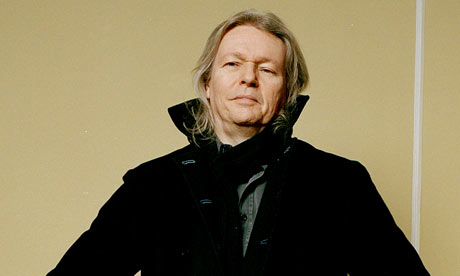 Christopher James Hampton was born on Jan. 26, 1946, in the Azores archipelago, Portugal. Of English nationality, Hampton's father was an engineer with Cable and Wireless, a British telecom company, and the family moved often, finally settling in Alexandria, Egypt, when Hampton was a boy. He was a precocious reader, adept at languages, and became a brilliant student when his father shipped him off to boarding school in England. Mastering French and German as well as English, he wrote poetry and acted in plays. He also had his first sexual experiences, which in the all-male culture of English public schools included homosexuality. Although Hampton would eventually marry and father two children, he turned his early sexual confusion into the basis for his first play,
When Did You Last See My Mother?
, which he wrote before matriculating at Oxford University.
When his play
When Did You Last See My Mother?
opened at the Royal Court Theater in London in 1966, Hampton was just 20 years old - the youngest playwright ever to have opened a play in the West End. Since then, Hampton has had a very successful career, both on the stage and in Hollywood. Upon graduation from Oxford, the Royal Court Theater made Hampton a writer-in-residence. For the next few years, he wrote tirelessly. He also received his first screen credit and excellent reviews for his film adaptation of Ibsen's
A Doll's House
(1973). This success prompted Hampton to move to Hollywood where he began writing for the screen. It proved to be a frustrating experience. Unlike the ease Hampton found in getting his work produced on stage, the film projects he worked on stalled in development, so he returned to England with a renewed commitment to the theater. However, he brilliantly spun his maddening time in Los Angeles into artistic gold. His play
Tales from Hollywood
(1980), which followed the trials and tribulations of displaced European wartime exiles in Hollywood, was an enormous popular and critical success. It also gave Hampton the creative clout to do just about anything he wanted for his next project. He took an enormous risk, but it would prove to be the greatest triumph of his career.
Hampton's stage adaptation of the 18th century French novel
Les Liaisons Dangereuses
- renamed
Dangerous Liaisons
- was an international sensation, winning many awards and transferring from London to Broadway without a hitch. The boisterous tale of greed, sex and power resonated with modern audiences in both England and America, who saw reflections of their own societies under the Free Market governments of Margaret Thatcher and Ronald Reagan respectively. Hampton's Oscar for his film adaptation catapulted him into the stratosphere of in-demand screenwriters overnight.
In 1995, when director Mike Newell dropped out of a Hampton-scripted project, he convinced the writer to take over the project himself. Hampton accepted the offer, and
Carrington
(1995) became his directing debut, opening up yet another new career path. The film, about the platonic love affair between the writer Lytton Strachey and the painter Dora Carrington, did not do well financially, but received excellent reviews.
After years of not seeing his screenplays produced,
Carrington
seemed to change Hampton's luck. In short order, he saw the premieres of
Total Eclipse
(1995) - an adaptation of his play starring Leonardo DiCaprio as Rimbaud,
Mary Reilly
(1996), starring Julia Roberts as the housemaid to Dr. Jekyll and Mr. Hyde, and
The Secret Agent
(1996), an adaptation of the Joseph Conrad Novel that he also directed. Although he was finding success in films, some of his theater friends were less than happy. The playwright David Hare, an old friend, bemoaned that fact that Hampton had been lost to the cinema. But even though Hampton had not had an original play produced since his autobiographical
White Chameleon
in 1991, he continued to work in theater by adapting the work of others. He had a huge success with his translation of Yasmina Reza's
Art
(1996). He also co-wrote the lyrics and book to the stage adaptation of
Sunset Boulevard
, winning two Tony Awards in 1995.
Hampton continued to write and direct films into the 21st century. He adapted the Graham Greene novel
The Quiet American
(2002) for director Philip Noyce. After reading the bestselling Ian McEwan novel
Atonement
, he immediately called his agents asking them to put him up for the job to turn it into a film. They explained to him that it was one of the most coveted assignments in Hollywood and that McEwan himself had say over who would get the gig. It turned out, however, that McEwan was a fan of Hampton's work and he was hired.
Atonement
(2007) starred two of the hottest young stars in film, Kiera Knightly and James McAvoy. It opened to strong reviews and earned Hampton numerous award nominations, including a Golden Globe and an Academy Award for Best Adapted Screenplay.