Sharr White, age 44, has been writing plays since the 1990s. They've been presented around the country, including at South Coast Repertory, Actors Theatre of Louisville, Oregon Shakespeare Festival, Lincoln Center Theatre's Directors Lab and Key West Theatre Festival. The Other Place marked his first major New York appearance, and became his first Broadway show.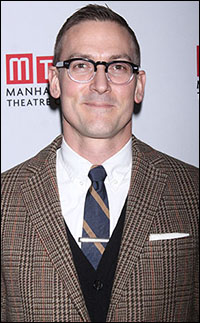 Sharr White in Playbill
Born in Frederick, Maryland, Mr. White moved to Southern California when he was young. The family moved to Boulder, Colorado for his junior high and high school years. And after high school he moved back to Southern California, took some time off, and worked in a warehouse for a few years. Mr. White eventually went back to school where he planned to major in biology since his father in in the sciences. He also took some acting classes and decided to switch to theatre. Mr. White then moved to San Francisco to go to the A.C.T. [American Conservatory Theatre] program. He didn't get accepted into the program and ended up at San Francisco State for a little bit and then jumped over to A.C.T. and finished the acting program there. He started writing at A.C.T., though they didn't have any writing classes.
Mr. White graduated with an M.F.A. in 1993 and was hooked on writing, so he moved to New York. He gave up on acting to solely focus on writing. Mr. White says "From there it was a long process for me, because I didn't go to grad school for writing, I didn't go to any writing programs, I wasn't formally trained at all. I felt like when I reached a point in beginning to develop I didn't have anyone to turn to, which was pretty isolating. My time in New York has been about writing, writing, writing. I did some self-producing in the '90s. The big break was with Humana Festival in 2006. I was able to start surfacing to people, and I got a couple of commissions. It's been a long process to get [to Broadway]."
The Other Place, was produced by the Manhattan Theatre Club, and opened at the Samuel J. Friedman Theatre from December 2012 (in previews) through March 3, 2013. The play, directed by Joe Mantello, starred Laurie Metcalf and Daniel Stern. It was originally produced Off-Broadway by the MCC Theater in 2011. The Other Place received two Outer Critics Circle Award nominations, for Outstanding New Off-Broadway Play and Outstanding Actress In A Play (Laurie Metcalf). Laurie Metcalf won an Obie Award, Performance. Metcalf was nominated for the 2013 Tony Award, Best Performance by an Actress in a Leading Role in a Play.